Bike image: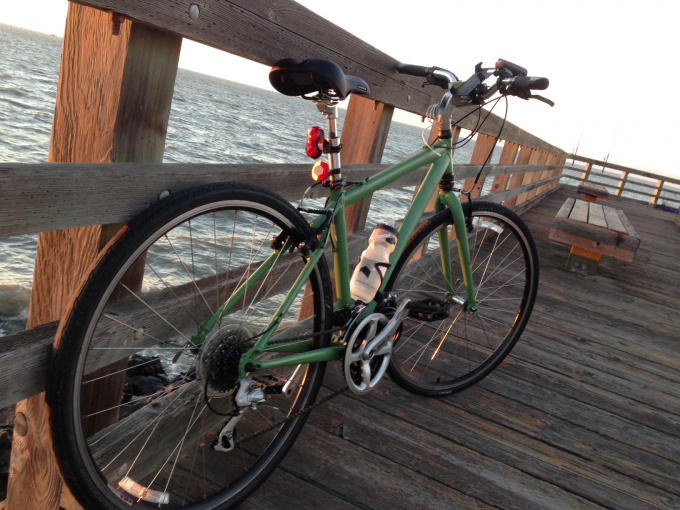 Notes:
This was a blue Trek 7300 hybrid bicycle, over time I painted it leafy green and replaced several parts. I rode this bike from Burlingame California to Springfield Oregon summer of 2008.
Maintenance
Front Tube
Friday, September 9, 2016
Replace front tube. Cleaned up a bit.
New Pedals
Tuesday, November 18, 2014
My old pedals were creaking a little. I think some of the bearings were broken or maybe the right pedal was cracked somewhere. They were plastic and fairly lite. I ordered some Diamond Back replacements that are metal and a LOT heavier, but they make for a solid feel while riding and the grips are excellent with my shoes. Ordered a pedal wrench. It is amazing. If you don't have one, it is worth the investment. Also, lubed the chain.
Finish Installing Mirror and Front Rack
Wednesday, July 2, 2014
Finished installing the new side mirror and front rack. The front brakes had to be adjusted quite a bit to get everything to work right. Test ride went fine, everything works great! Next up take my cat Nala for a ride in the new front basket!
Handlebar Extender and Front Rack
Tuesday, July 1, 2014
Added the new handlebar extender. It is much more solid than the other one, as expected. That will hold my phone mount and cup holder. Added a front rack. The bolt was too short to fit through my forks, so I had to pick up a longer bolt and will finish the install later. Also started cutting a hole in the end of my handlebar grip to add a new side mirror. I thought it would just be the rubber, but there is a plastic layer under the rubber that needs to be drilled through.
Clean and Lube Chain and Add Cat Carrier
Sunday, June 29, 2014
First of all I gave the bike a good whipe down. It has been a while and I spilled coffee on it the other day. Lubed the chain. Installed the new cat carrier which would have went fine but I removed it a couple times to make adjustments and on the third round one of the nuts got stuck. It feels pretty solid so I will leave it as is. The basket sags down to the tire when I press hard on the front so I'm ordering a front rack that will hopefully give additional support. I ran out of room on my handlebars! I have a cup holder and my phone holder to add and nowhere to put them. The cat basket came with an extension but it is not solid at all and vibrates excessively. I considered using epoxy to help solidify the thing but I decided to wait and I'm glad that I waited because I found a better solution. Similar concept, a handlebar extender, but with a bolt and clamp that will probably be much more stable. I would use the one I have for a light or something like that but not for my iPhone mount / gps and coffee cup.
Another note, I had to rotate the gear shifter slash brake handles to make room for the new bag.
Clean and Lube Chain
Sunday, June 1, 2014
That's it. Cleaned and lubed the chain. Didn't even need it, just felt like it! Melony took it for a ride today. http://gobiketrip.com/maps/237/1336
Rear Kickstand
Monday, March 10, 2014
Installed a new rear kickstand (Greenfield Stabilizer Rear Mount Alloy ATB Kickstand). Quick and easy install. 1 bolt and 4 screws. The kickstand rattles a bit on bumpy rides, but not too bad.
Clean and Lube Chain
Sunday, March 9, 2014
I've been keeping the bike in an outdoor shed. It looks like there must be some moisture. The chain had extra grit and rust building up. After a good cleaning / lube it is riding smooth again. But I might have to keep an eye on it and clean / lube it more often now that it is outside all the time.
Clean and Lube Chain
Tuesday, December 31, 2013
Rear Tire Warped
Tuesday, November 5, 2013
I noticed that the rear tire was warped on the way out the door for a ride. Rode down to the bike shop for a new tire. They weren't too busy so I went ahead and had them install it. it is smaller size than the older tire. Picked up a spare tube, plus the old tube was fine, so saved it for the front tire / other bike.
Pages