Bike image: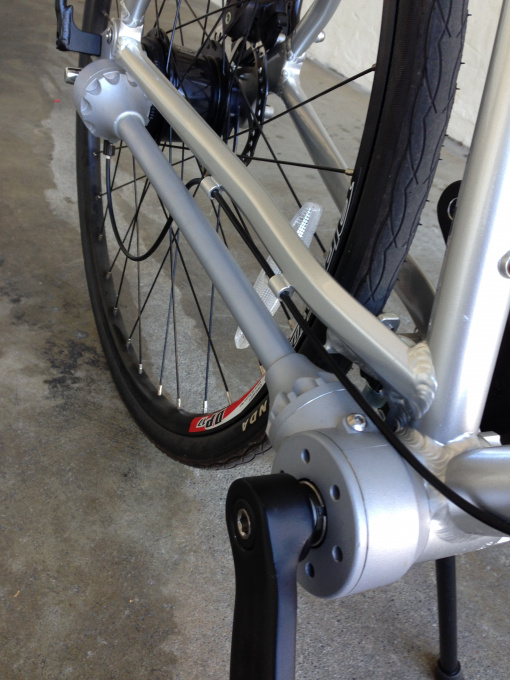 Notes:
Replacement chainless bike after the first one was stolen!
Maintenance
Shaft Drive
Sunday, January 31, 2016
Finally installed new shaft drive and got the chainless back on the road. It still slips occasionally under hard pedal pressure. Added more grease and that helps. Still more maintenance that expected. Great for casual rides around town.
Ship Shaft Drive
Tuesday, November 25, 2014
Shipped the shaft drive today. It was difficult to remove. I had to purchase a new plumbers wrench to remove a huge nut around the crank shaft (BB case). At first I used a large vise grip and hammer thinking I could loosen it up. After probably an hour I made one full rotation and it was still too tight to turn with my body weight / leverage. The vise grip was just too small. So with the large plumbers wrench I was able to position myself under the frame so it rested on my shoulder while I pushed the wrench down. That gave me enough leverage to turn it by hand and remove it the rest of the way fairly easily. Other than that the rest was easy enough and the wrench was only $15. It'll be good to have, I'm sure I'll need it again some day.
Shaft Drive
Friday, November 21, 2014
Still having issues with the shaft drive. I think they are due to the right cover (face plate) being loose for so long. I wish I had noticed sooner. The manufacturer has agreed to send a replacement shaft drive under warranty. I need to remove the old one with a crank puller and allen wrench, then ship it.
Grease
Sunday, June 1, 2014
The grease came. I applied some to the front and back. The loctite is working the front face plate on the shaft drive is staying nice and tight now as it should. Riding nice and smooth now. Still a click once in a while, but not bad so far.
Loctite
Thursday, May 29, 2014
Well, that turned into a bit more work than I thought. The front part of the shaft drive kept coming loose. I called the manufacturer and they suggested adding some loctite red. I ordered some of that and put it on there today. Unscrewed the loose part as far as it would go, cleaned it up and add a lot of loctite and tightened it as hard as I could. Now I will let it sit for 24 hours and test ride it tomorrow to see if that worked. Also, still waiting on the grease.
The Shaft
Sunday, May 25, 2014
Symptoms: gears were slipping bad. Applying pressure to the pedals were causing them to slip hard... I almost fell on my ass trying to accelerate from a stop light. Not safe. I almost lost my faith in chainless bicycles today... until I got it fixed and took it for a test ride.
Fix: first off I tightened up the shifter cable and checked that the marks on the rear hub lined up in 4th gear. That helped a bit. I took it for a spin and it still slipped hard while applying pressure. Damn it! So I removed the right side crank arm / pedal and noticed that the face plate on the front hub / front part of the shaft drive was very loose and some grease was leaking out... fail. I tightened that up by fitting two allen wrenches in the holes on opposite sides and turning hard. There are about 6 holes all around. Now I took it for another test ride and everything felt much more efficient with no slipping. I've been missing out. I wonder how long that piece has been loose and slowly getting looser. Anyway I hope there is no permanent damage and plan on adding more bearing grease soon. Ordering it now. Also adjusted disk breaks.
Remove Fenders
Friday, February 21, 2014
The fenders didn't fit well with my new bike storage, so I removed them for now. I need to try some of the removable fenders soon, as there is more rain in the forecast, but not much. It was surprisingly easy to remove the rear tire. Loosen two bolts, slide the fasteners down the bolt and that's it! Slide the tire off. No greasy chain to mess with and no loose parts.
Cable Tension and Fenders
Monday, December 30, 2013
Tighten up brake and gear cables. Adjust disc brakes slightly. Adjust front fender.
Assemble Bicycle
Monday, December 2, 2013
Assemble bicycle. Add rear rack - custom bolt required M6x20 - drill out left side of rack to accommodate new bolt. Add bell, add water bottle carrier, add front light, add rear light, remove rear reflector, add side mirror. (replacement for stolen)
Tune disc brakes:
Silver bolt in rear moves inside brake pad, cable tension controls outside brake pad. Disc can be bent slightly with fingers if needed. Use gloves or something so hands do not touch disc.